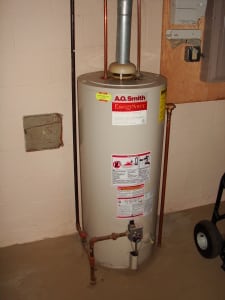 On April 16, 2015 water heater energy factor requirements will change significantly. The Department of Energy has increased its minimum energy efficiency standards for new water heaters, which will affect virtually all residential gas, electric, oil, and tankless gas water heaters.
Product manufacturing changes will vary with more radical changes occurring in larger-volume units. Homeowners may have to deal with increased costs based on how the new requirements will affect the design of water heaters. In some cases, the water heater will have to be re-located to operate properly or mitigate noise. While the operating cost of the new water heaters will be less because of their increased energy efficiency, it is likely that product, installation, and maintenance costs will increase because of more complex designs and the integration of electronics, blowers, fans, condensers, and other components.

If you are considering replacing your current water heater, and would like to avoid the extra expense that will likely come with these new regulations, Haldeman Mechanical can replace your unit now. Larger capacity models (55 gallons or more) will be especially problematic with the new regulations.
For more information and to get a free quote on a new unit, please give us a call today at 717-665-6910.